Outreach
Speaking Engagements
Compelling Delivery to Engage Your Audience or Team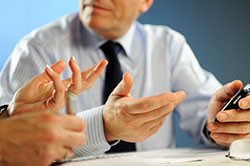 If your company, professional association or educational organization prefers proven substance over hype and concepts that can be applied instead of fleeting motivation, we invite you to inquire into the availability of the Institute's founder T. Falcon Napier and our other speaking professionals.
T. Falcon Napier
Globally recognized authority on human development, change management, leadership and sales. Pioneer of the field of Tension Management®.
For over 30 years T. Falcon Napier has been sharing with audiences how to apply the concept of Tension Management to improve sales, management, team building, decision making and client engagement.
He has presented MasterStream®, Pride-Based Leadership and ChangeWorks® programs in every state in the U.S., every province of Canada, 22 countries around the globe and on 5 of the 7 seas.
Topics of presentation have included:
Coming soon…
Partial Client List
AAA – Automobile Association of America
ABN•AMRO
ACN – American Communications Network
ADP – Automated Data Processing, Inc.
ADT Security Systems
AFLAC – American Family Life Assurance Co.
American Express Financial Advisors
Amigo Mobility International, Inc.
Apple Computer
ASC – American Sunroof Corporation
Baskin-Robbins USA
Belle Tire
BellSouth Advertising & Publishing Company
Berry Company
Blue Cross/Blue Shield of Michigan
Celebrity Cruise Lines
Century 21
Coopers & Lybrand
Costa Cruise Lines
CPHA – Commission on Professional and Hospital Activities
Dean Witter Reynolds, Inc.
Delta Dental Plan of Michigan
Detroit Edison
Domino's Pizza, Inc.
Eastern Michigan University
Everen Securities
Ford Motor Company
General Motors Corporation
IBM
IDS Financial Services, Inc.
Kemper Financial Services
Ken Blanchard Companies
Lennox Industries
Little Caesar's Inc.
Mary Kay Cosmetics, Inc.
Michigan National Bank
Michigan State University
NuSkin International
Republic Bancorp
Robert Bosch Corporation
Safeguard Business Systems, Inc.
Shearson Lehman Brothers
Shearson Lehman Hutton, Inc.
Sony Corporation
St. Jude's Medical
State Farm
Stryker Medical Corporation
Terryberry Corporation
Unibind Corporation
United States Tank Automotive Command
University of Michigan
Women Presidents' Organization
World Directories