Training for Organizations
MasterStream®
Turns "Let me think about it" into "When can we get started?"
Regardless of the approach you're currently using . . .
Regardless of the results you're currently getting . . .
The MasterStream® Method helps gain buyer commitment to close more of the business you're losing today. It fosters a selling process that is so natural, your sales people will put it to use every day!
What is the "MasterStream®"?
Quite simply, the MasterStream® is the path for cultivating and managing the IDEAL amount of tension to ensure sales productivity.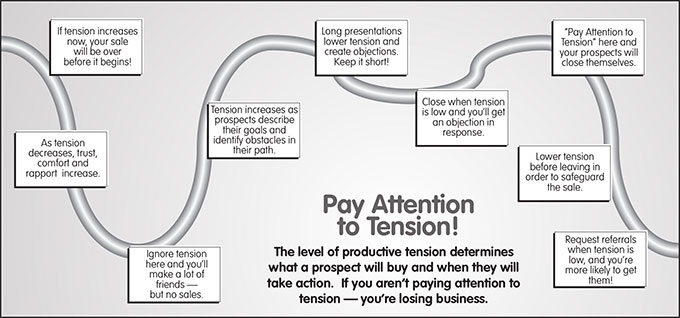 This strategic framework is the visual and conceptual model of the MasterStream Method.
The long, curving line is called the MasterStream®. It illustrates the ideal flow of tension during the entire sale process.
MasterStream® represents a unified and universal model to streamline your sales approach — and close more business in less time.
Free Paper on the MasterStream® Method
"Pay Attention to Tension" is our free white paper introducing the MasterStream® Method. Learn how to apply the principles of Tension Management® to your professional selling:
The MasterStream® Core Program
At IPT, we deliver MasterStream® training for corporate clients the world over. Tailored for your needs, our programs support your corporate culture, skill levels, and best practices.
About the Training – What MasterStream® Training is – and IS NOT
CORE Program Briefing – Objectives | Who should attend | Workshop Overview | Pricing
Case Study – See the proof: results from over 5,000 financial services professionals
What Participants are Saying
In-Depth Training
IPT also offers a variety of training programs that apply Tension Management® to key sales activities:
A Lifetime of Leads™
Any training can include additional modules that explore using the MasterStream® Method to build business, including:
Clientbase Saturation
Refined Referral Gathering
Professional Interpersonal Networking
Value-Focused Farming
Image Marketing
Strategic Seminar Selling
Secrets of Trade Show Selling
Leveraged Technology
Expert Positioning
Physical & Telephonic Cold Calling
Certification – Help your clients sell more and sell faster
IPT certifies a select group of advanced sales trainers and consultants to offer MasterStream®. These professionals remain ahead of their field by teaching their clients how to attain unbeatable closing rates.